Stay safe at every tailgate this fall in Healdsburg, California
Fall's finally here, which means football season has finally kicked off! Going down to the stadium to watch your favorite team take down their rivals? Let us give you a few safety tips for packing up your McConnell Dodge, arriving at the stadium, and leaving the parking lot after the big game.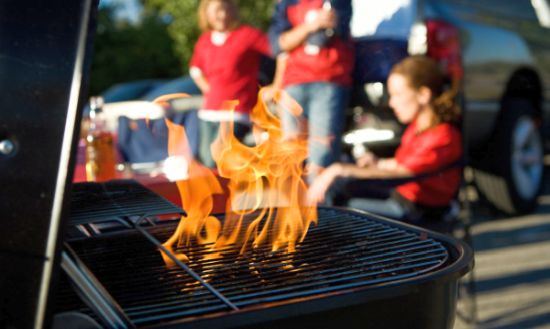 Packing Up Your McConnell Dodge
First things first – you can't make it to the tailgate without getting there! Here are our tips for packing up your McConnell Dodge:
Where did all our stuff go?: Ensure that all gear is strapped down securely, especially if it's in your Dodge Ram truck bed or on the roof.
Objects in the mirror: Don't leave yet without first making sure that you can clearly see out your rearview window.
Listen to Mom: Put that seatbelt on and make sure all passengers are securely strapped in too!
Arriving At The Stadium
You're finally there! Now it's time to make sure that you, your passengers, and your McConnell Dodge stay safe when arriving at the stadium.
Pay attention: Remember, you're not the only one there to tailgate. Be sure to stay alert, keeping your eyes on the road when arriving at the stadium, due to the increased traffic and other tailgaters. About 20% of car accidents occur in parking lots, so don't become a part of that statistic!
Exit, stage right: Would you rather park close to an exit, hoping for a quick departure after the game's over, or do you want to be right in the middle of everything? Also ensure that there's plenty of space to open all your vehicle's doors and tailgate.
Where did we park again?: Be sure to make either a mental note or a note in your phone of where you parked before walking into the stadium. Another option is to use a parking location app, so you won't be wandering around the parking lot searching for your car after the game's long over.
Be careful: There should be at least 6 feet of space between any grills or hot items and your car. And make sure there's a trash can or recycling bin nearby so you can have a quick and easy cleanup.
Lock up: About 25% of car thefts are from unlocked cars, so make it difficult for would-be thieves by locking up before heading into the stadium. Keep any and all valuables out of sight, and locked in the glovebox if possible. To add even more security, consider adding a steering wheel lock.
Leaving The Stadium
After a great game, and hopefully a great win, it's finally time to head on home.
Patience First: Everyone wants to beat the traffic, which can create traffic jams all over the parking lot. Navigate your McConnell Dodge safely out of the parking lot by utilizing defensive driving techniques, such as controlling speed, not expecting other drivers to do what you they should do, respecting other drivers' right of way, and avoiding distractions like making a phone call or eating a leftover hamburger.
Friends don't like friends drive drunk: Had a few too drinks at the game? Don't be the cause of a drunk driving crash, which occurs every two minutes in the U.S. Choose the safe and legal route by having a designated driver lined up beforehand or contact an Uber or taxi to get you and yours safely home.
Ready, Set, Hike!
Ready to find that perfect new McConnell Dodge vehicle for taking on this football season?
For pricing and availability info, browse our New Vehicle online inventory, call us at (888) 454-4022, or stop by McConnell Dodge at 1405 Healdsburg Avenue in Healdsburg, CA.